My Grandpa is 90! He has always been one men I look to for an example of hard work and the cowboy way. Until the last couple years he regularly still went out to check on the cattle and animals and still groomed his own dog.
I couldn't travel to his birthday celebration, because I live on the other side of the country with my children. :(
That doesn't mean I didn't send him birthday wishes.
It is no secret to my friends and family that I have a sarcastic streak. Because of that, I have fallen in stamp love with Art Impressions Stamps. They are so sassy. I found a couple stamp sets recently and used one of them for Grandpa's card.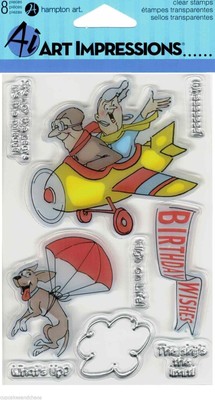 I used the couple in the plane and stamped it in memento tuxedo black and pulled out my Prisma Color Pencils again. I cannot say enough about how well these pencils color. They really blend well, especially if you add one layer on top of another.
I really took my time and added one layer after another to get the blending I wanted. I made a stamped panel with red card stock and the cloud stamp from the set. Then layered each card panel with a black mat.
And here's the finished card.
Now all I need is a cowboy Art Impressions stamp, hint hint!